Spiritcraft Design offers handcrafted furniture that is made to endure for generations. Each piece of our furniture is crafted using the finest traditional joinery methods including mortise and tenon and splined miter joints, exquisitely crafted dovetails and other time tested methods. Tables, seating, chairs, beds, media consoles, dining furniture, slab tops and casework is crafted from hand selected local solid hardwoods and select exotics. Our fine hardwood furniture represents true value in a throw away world and each piece is handcrafted with personal care to our clients specifications, measurements and hardwood selection.
---
Spiritcraft Design Furniture, offering collections of originally designed furnishings adaptable to our clients specific interior decor and space planning.
At Spiritcraft Design we offer several collections of our original furniture designs that incorporate design elements with influences ranging from prairie period architecture to mid century modern style furnishings. Specific pieces from our furniture collections can always be crafted in any hardwood of choice and can usually be adapted to a clients desired dimensions.
Many casework items such as media consoles, night stands and sideboards can further be adapted in design and utilitarian aspects with regard to drawers, doors and open areas within a piece. Our hardwood furniture is crafted to last for generations, made from the finest hardwoods and is designed and handcrafted to be of true heirloom quality.
---
Our rescued local solid hardwoods and select exotics offer superb quality while our attention to grain, texture and color matching assure enduring furniture with timeless appeal usually crafted from hardwood from the same tree.
Our clients love our attention to detail when it comes to sourcing and selecting hardwoods for our furniture. Our furniture pieces, book-matched hardwood tops and live edge slabs are praised for their quality and beauty.
Our Solid Hardwoods... A major benefit in buying a piece of Spiritcraft Design furniture, aside from the heirloom quality of course, is the hardwood that is incorporated into the furniture. Our furniture is crafted from hand selected boards with great attention paid to color, grain and apparent beauty. Our local hardwoods such as Walnut, Cherry, Maple, Ash and others are taken from very large and old trees that have suffered storm damage or have "passed on" by other means naturally. The colors, grain, texture and quality of the urban and rural rescued hardwoods is amazing and is not found in any mass produced furniture. If you have never seen a book-matched figured Walnut, Ash or Cherry slab table top, you are missing out on the best of natures artwork.
We also use select exotic hardwoods, that are harvested in an ecologically sound manner. We use Sapele, African Mahogany, Wenge, Bubinga and other select hardwoods in our furniture designs, table tops and in conjunction with our Madison Avenue collection of wall panels and built in furniture.
By hand selecting hardwoods, tops are grain and often book-matched while the color and texture is consistent as each piece of furniture comes from the hardwood of the same tree. Wider and fewer boards are used for tops for quality, apparent beauty and to set our furniture apart from even the finest names in quality commercially made fine furniture.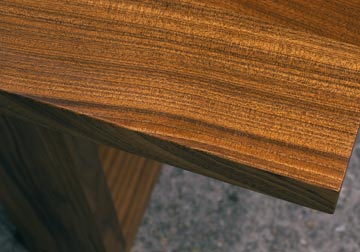 Mid Century Style Dining and Cocktail Tables in Solid Hardwood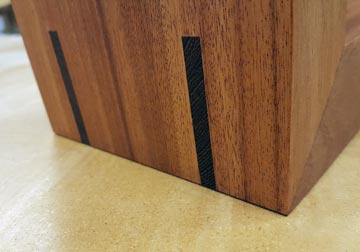 Wenge splines in mitered Mahogany Trapezoid Legs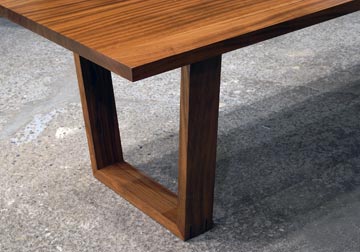 Slab Sapele Mahogany Mid Century Modern Dining Table
Spirit Console Table in Walnut from Mid Century Modern influenced Exotica Collection
Stereo Cabininet, Console in Mahogany and Ebony, Mid Century Modern Furniture
Solid Wenge Round Occasional, End and Cocktail Tables in Mid Century Modern Style
---
The Joinery is the foundation of heirloom quality furniture.
By employing mortise and tenon joinery, artful dovetails, splined lap and miter joints among other well established and time tested joinery methods, our furniture will remain strong, gracefully move with the seasons and become family heirlooms. Alluding to "value" once again, we design and build our handcrafted furniture with the idea that our clients grandchildren will be passing down our pieces to yet another generation.
---
We offer several collections of our originally designed furniture along with handcrafted cabinetry, hardwood slabs & tops along with wonderful custom wall units that can transform living spaces and commercial working and service environments.
Explore our collections of fine furniture, custom work and hardwood slab tops and live-edge hardwoods.
Our original furniture designs, within our collections offer heirloom quality influenced by design elements from time honored architectural and furniture design periods. Our custom cabinetry is also of a far higher quality than what is commercially available and is crafted and designed to be obviously not off the shelf. Our hardwoods and slabs whether used for our fine furniture or as stand alone table tops or wall decor is of the highest quality, with unique characteristics and sourced carefully from sustainable sources. Our hardwood furniture is crafted to last for generations, made from the finest hardwoods and is designed and handcrafted to be of true heirloom quality.
A word about customization of pieces within our collections: Our table and console designs are available in many hardwoods and combinations. Widths, Lengths and Heights are easily adapted to our clients needs and space planning requirements and are usually only limited by aspects such as seating area, etc. Many casework items such as media consoles, night stands and sideboards can further be adapted in design and utilitarian aspects with regard to drawers, doors and open areas within a piece. In short, don't feel limited in the slightest as we craft our furniture to meet our clients requirements.
---
---
---
Our Furniture Workshop and Showroom Locations, Service Area and National Blanket Wrapped Delivery
Spiritcraft Design Furniture is handcrafted at 7 Jackson Street in East Dundee, Illinois and shown in the adjacent Furniture and Decor Showroom within Interior Design Accents in beautiful downtown, East Dundee. We serve the Barrington, Arlington Heights, Algonquin, Libertyville, Long Grove, Vernon Hills, Dundee, Evanston, Lake Forest, Geneva and Glenview areas in Illinois along with the Greater Chicagoland suburbs and Lincoln Park, Old Town and other areas of Chicago.
We also ship our furniture, slabs and table tops to satisfied clients throughout the Continental USA using our expert blanket wrapped delivery partner. Learn more about our nationwide shipping services and see why over fifty percent of our furniture is proudly displayed in homes within New York, California, Texas, Florida, Massachusetts, Wisconsin and many other states.
Spiritcraft Design Furniture
7 Jackson Street, Suite a
East Dundee, IL 60118
Office: 815-893-6609