---
Live Edge Dining Tables, Handcrafted One at a Time
We offer quality live edge dining and conference tables that are crafted from select rescued kiln dried slabs. Our tables and tops are made with perfect glue joints and finished with a wonderful "no water ring" low VOC polyurethane finish. Our live edge tables are one of a kind and custom made to your dimensions with many leg and base options. We deliver locally and ship white glove nationally. Our price, quality & lead times are exceptional.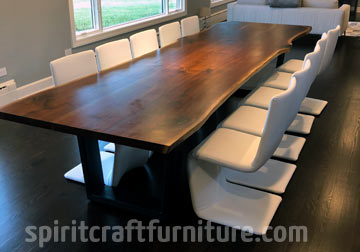 Twelve Foot Walnut Live Edge Dining Table in Chicago
Walnut Live Edge Dining Table with Upholstered RH Yoder Westcott Chairs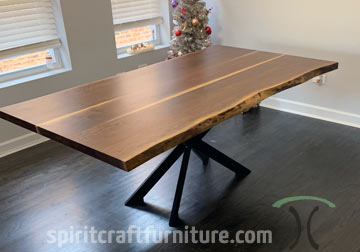 Custom Made Black Walnut Live Edge Dining Table and Spider Base for Chicago, IL Client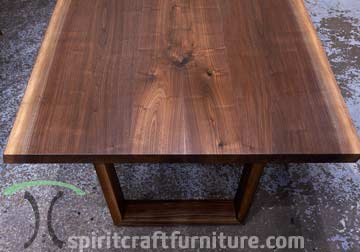 Wide Black Walnut Live Edge Table with our Hardwood Trapezoid Legs - Lincoln Park, Chicago Client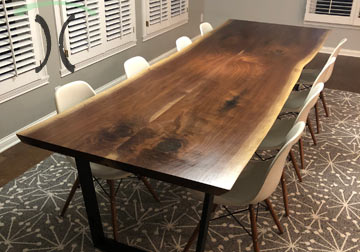 Walnut Live Edge Dining Table, Custom Made for Barrington, Illinois Residential Client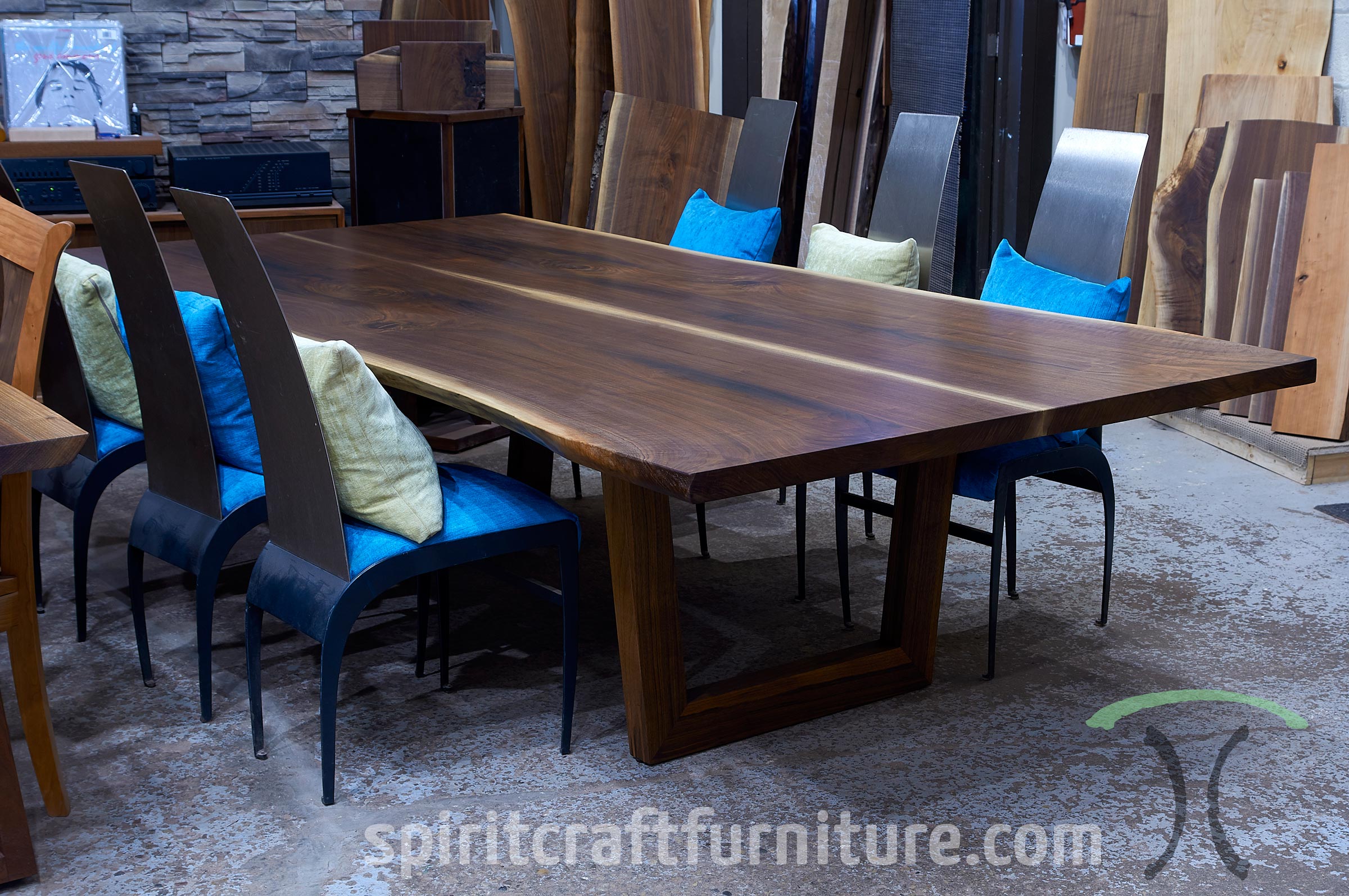 Custom Made Black Walnut Live Edge Dining Table with Substantial Solid Wood Legs for Santa Rosa, California Client
We offer showroom pick-up, local Chicago area delivery, professional and insured national white glove, "room of choice" delivery and curbside freight shipping. We have you covered!
---
Solid Wood Round and Rectangle Dining Tables | Generational Quality
Our custom made rectangle and round dining tables are unmatched in terms of quality and price. Each custom made table is crafted from select hardwood boards and made to endure generations. Our tops are crafted individually selected premium hardwood boards to assure quality and eye appeal. We offer many different leg and base options and sell our tops without legs if desired.
Custom Made Round Walnut 72" Dining Table with Cross Trapezoid Base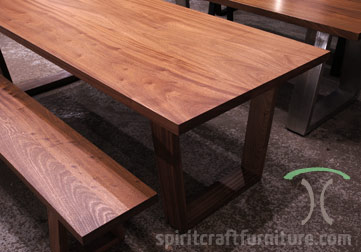 Sapele Mahogany Dining Table with Matching Bench for Chicago Client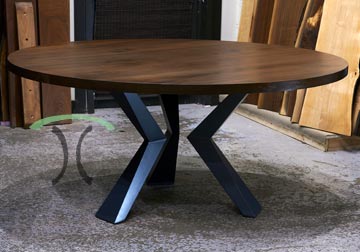 Custom Made Black Walnut Round Dining Table with Knee Legs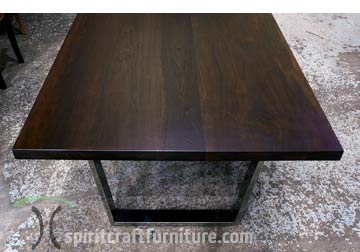 Black Walnut Dining Table with Stainless Legs for California Client - Made in the USA by Spiritcraft Furniture
Natural Black Walnut Round Dining Table with Spider Base for Naples, Florida Client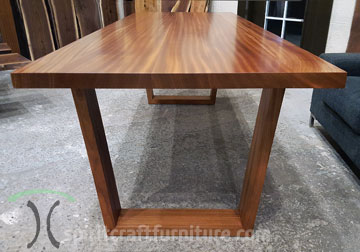 Mid Century Modern Style Sapele Mahogany Dining Table for Chicago Area Client, Generational Quality by Spiritcraft Furniture
---
Live Edge and Wide Plank Conference Tables, Crafted to your Exact Needs and Specifications
We offer custom made solid hardwood conference tables in dimensions that suit your boardroom needs. Our plank hardwood and live edge tables are crafted to endure decades of use, feature perfect glue joints and our proprietary finish assures durability and ease of care. We also have many leg, base and power and data grommets options to keep your team connected. We deliver locally and ship nationally and among the fastest lead times in the industry. Impress your clients with one of our stunning conference tables.
Custom Black Walnut Live Edge Conference Table with RH Yoder Stained Cherry Somerset Dining Chairs
Custom Conference Table in Stained Sapele Mahogany in Two Sections with Power and Data Grommets.
Twenty Four Foot x Six Foot Sapele Mahogany Conference Table in Six Sections for Chicago Boardroom
Custom Black Walnut Live Edge Conference Table with Data Grommet in Chicago Area Suburbs
Custom Conference Table in Sapele Mahogany with Power and Data Grommet at Springhill Suites, Madison, WI.
Stained Sapele Mahogany Conference Table in Grey in Chicago Area Conference Room
---
Solid Hardwood Table Tops, Bar Tops and Kitchen Island Tops
We offer quality hardwood lumber in many species. Our hardwoods are kiln dried, are thick for their grade and are of select or better grade. We offer hardwoods rough and skip planed with enough room to work with. Hardwood boards are of premium quality and are flat enough to yield common usable thicknesses after flattening and surfacing in their total length.
Custom Round Sapele Mahogany Table, Stained Walnut on Powder-coated Double Post Base
Custom Mitered Bar Top in Stained Sapele Mahogany for Chicago Area Client
Custom Made 11' x 4' Black Walnut Wide Board Island Top for Geneva, Illinois Client
Custom Ebony Stained White Oak Thick Slab Dining Table on Solid Wood Post Bases for Barrington Client
We Make Custom Made Black Walnut Kitchen Island Tops with Square Cut or "Live" Edges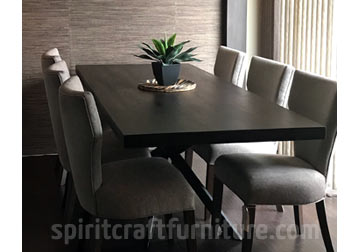 Ebony Stained Thick Plank Table, Spider Base & RH Yoder Roosevelt Dining Chairs
---
Our Furniture Showroom, We are Open to the Public, 7 Days a Week
Our solid wood table top & live edge table showroom is located in beautiful downtown East Dundee, Illinois and we are open 7 days a week, with no appointment necessary. We always have several full slab and live edge tables on the floor in a variety of hardwoods and with several different leg styles. We also have a wide assortment of finished hardwood tops, live edge slabs, benches, console tables, coffee tables and small bar tops. Our available inventory varies daily, but our best in class 5 week average lead time is not a long time to wait for the exact table or top you desire. Our showroom is located in the same building that houses our production wood-shop. All hardwood table products are proudly handcrafted in East Dundee, IL USA. We look forward to serving you!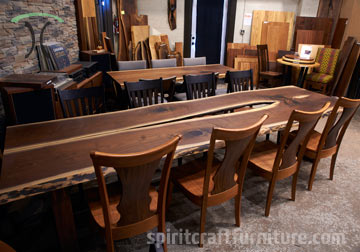 Heirloom Quality Live Edge, Slab and Solid Wood Tables and Table Tops in our Showroom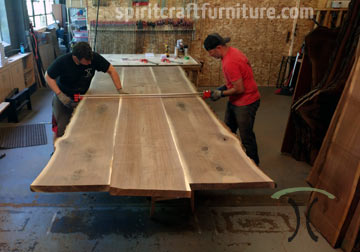 Caution, Craftspersons at Work - Dry Fitting Glue Joints on Massive Live Edge Conference Table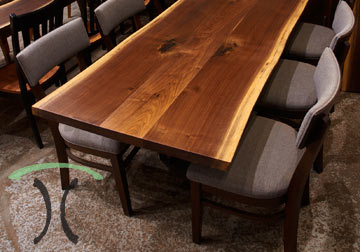 Black Walnut Live Edge Tables & RH Yoder Chairs in our East Dundee, Illinois Showroom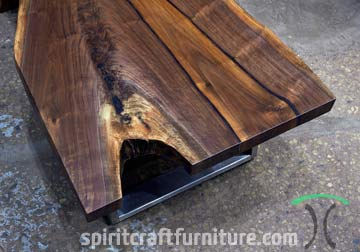 Live Edge and Slab Coffee Tables, Custom Crafted in any Size and Pre-Made in our Showroom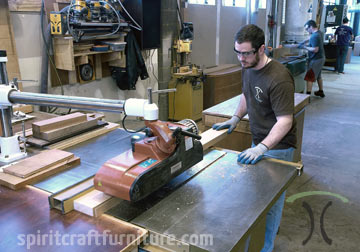 Custom Made Tables in Progress, Perfect Glue Joints from the Power Feeder on our Industrial Table Saw at Dundee, IL Shop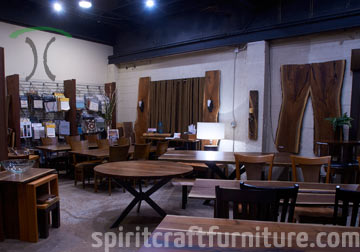 Handcrafted Black Walnut Live Edge and Solid Wood Tables for Sale in our East Dundee, Illinois Showroom
---
Our Heirloom Quality - Kiln Dried Hardwoods, Meticulous Craftsmanship & Natural No Ring Finish
First of all, we will never make anything, much less a table top or table, out of anything but
verified kiln dried hardwood
. Air dried wood is wet wood and anything that is made from air dried wood
will not
last. Our crafts-person's take great care in every table top, leg and large slab or live edge table we create. We are known for our perfect glue joints that are crafted to last forever. We create art in our production wood shop and our end prices are considered to be at
wholesale
levels by our dealers and designer clients. Our finish has been perfected over the last decade and a half and we are very proud of our natural looking, low sheen satin finish that is durable, easy to care for and is "ring free". We take great pride in our tables and tops and our motto from the beginning has been, "if we don't think it will last for generations, we won't make it".
---
Spiritcraft Furniture | Our production facility and solid wood table top and live edge table showroom
Spiritcraft Furniture is located at 7 Jackson Street in East Dundee, Illinois. Our production wood shop and hardwood table and live edge showroom are located within the same facility and we are open 7 days a week, with no appointment necessary. We serve the Barrington, Arlington Heights, Algonquin, Libertyville, Rockford, Long Grove, Vernon Hills, St Charles, Evanston, Lake Forest, Geneva and Glenview areas in Illinois along with the Greater Chicagoland suburbs and other areas of Chicago and Southern Wisconsin. Our clients have easy access from anywhere in the greater Chicago Area as we are just a skip and a jump north of Interstate 90. We also ship our tables and tops nationally.
---
Hours of Operation (CST)
Monday - 9:00 AM to 6:00PM
Tuesday - 9:00 AM to 6:00PM
Wednesday - 9:00 AM to 7:00PM
Thursday - 9:00 AM to 6:00PM
Friday - 9:00 AM to 6:00PM
Saturday 9:00 AM to 4:00PM
Sunday 10:00 AM to 4:00PM
Spiritcraft Design Furniture
and the Living Edge Furniture Showroom
7 Jackson Street, Suite C
East Dundee, IL 60118
Office: 224-801-1969