RH Yoder chairs offer long term value; unsurpassed quality at an affordable price point
We have been representing RH Yoder for over a decade and can attest to their quality. Most chairs manufactured today have a very short lifespan and while you can spend as much or more on a chair of suspect quality, RH Yoder chairs represent real long term value in being of true heirloom quality. All chairs are crafted with mortise and tenon joinery that is reinforced with their proprietary blocking system. Many chairs also are made with aprons and rails that are steam bent; you will find no ply or bentwood laminations and all chairs are made in the USA from premium kiln dried hardwoods. There are several customization options available including wood species, stain color, and wooden or fabric seats.
---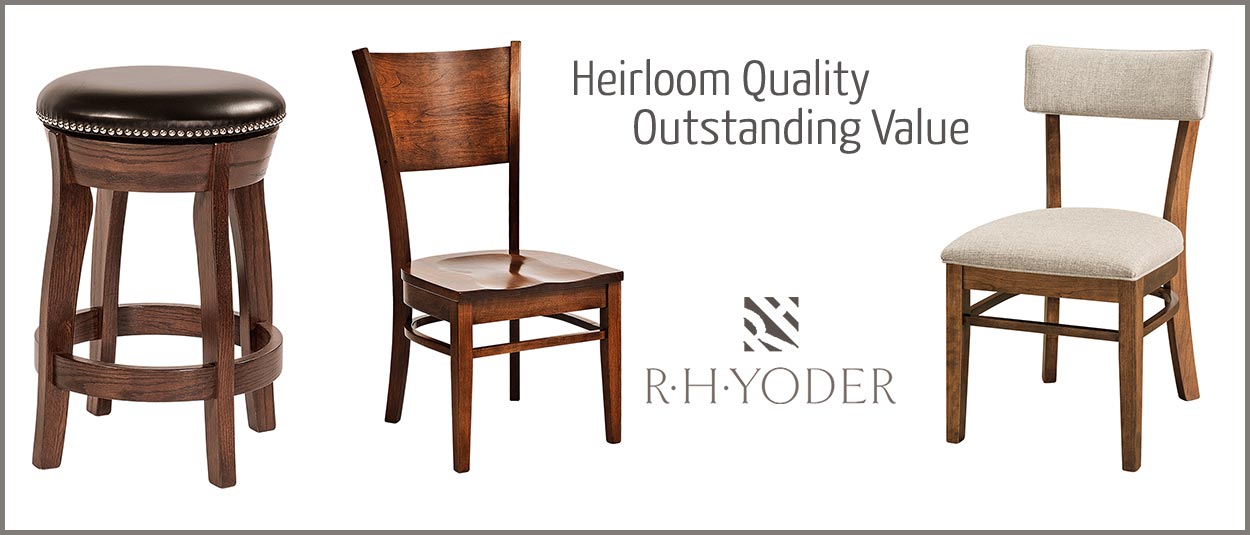 Catalog: RH Yoder Chair Catalog by clicking the above image (this is a large file and it may take a moment to download). | Price List: RH Yoder Chair Price List
---
60" Walnut Table with RH Yoder "Emerson" Dining Chairs in Stained Brown Hard Maple in Chicago Home
RH Yoder Counter Height "Dillon" Barstools with Onyx Ultraleather Seats, Stained Ebony in Chicago Suburbs Kitchen
RH Yoder "Bow River" Fully Upholstered Dining Chairs in Stained Brown Maple with Ultraleather in "Road" with Black Walnut Live Edge Table from Spiritcraft Furniture of Dundee, Illinois
RH Yoder "Benjamin" Side Chairs in Cherry with Walnut Back Panel and Walnut Live Edge Dining Table Pictured in our Showroom
RH Yoder "Wescott" Side Chairs in Brown Hard Maple, Stained to Match Live Edge Walnut Dining Table in Chicago Area, Illinois
RH Yoder "Emerson" Chairs in Brown Maple with Storm Grey Stain Seated Around Sapele Mahogany Dining Table Stained to Match from Spiritcraft Furniture of Dundee, Illinois
RH Yoder Pricing for Dining Chairs and Barstools
RH Yoder Chair and Bar Stool Pricing Instructions: The downloadable price list has different wood types going across the columns with fabric options and upgrades listed after. The rows represent chair style with side chairs being on the top row. We recommend the "B Maple" chairs that are stained to look like Walnut and other hardwoods to maximize value. "B Maple" is Hard Maple that is unsorted for color and is an excellent chair material. We have developed specific custom stain colors that have been produced for us to mimic Walnut and both Sapele & African Mahogany. Note that chairs are indeed available in Walnut and other hardwoods for exact consistency if required. The "Oak" listed on the price list is Red Oak and is a good choice to match an Ebonized Ash Table Top.
View the RH Yoder Chair Price List. Pricing does not include any custom crating/shipping charges; please email sales@spiritcraftfurniture.com with zip code and we can provide a shipping quote. Note: shipping chairs along with tables is not usually a large added cost.
---
Spiritcraft Furniture
a Division of Great Spirit Hardwoods LLC
Seven Jackson Street
East Dundee, IL 60118
Office: 224-801-1969