Covid 19 Update
Our hearts go out to everyone during this challenging time. We wish everyone good health and hope we all come through this stronger and wiser.
Due to the Corona Virus outbreak, our retail showroom is closed to the public. Our manufacturing operations continue and we are making tables and tops for our local and national clients.
We are following suggested procedures and working in shifts to help keep everyone safe and are monitoring our employee's health closely.
Some lead times have been extended and we are monitoring our shipping and supply chain partners to help alleviate major delays. We will all get through this together.
---
---
Our live edge dining and conference tables, slab table tops and kitchen island, coffee, desk and solid wood restaurant tops are handcrafted in kiln dried Black Walnut, Cherry, Sapele Mahogany, Maple, Ash and More.
We craft our slab tables & table tops, kitchen islands, dining, conference tables and desks from stunning and unique kiln-dried slabs, flitches and live edge hardwoods. Our local live edge hardwoods are rescued from large, storm downed and otherwise fallen trees. Our slab tables are offered with custom designed legs in solid hardwood, stainless and steel and are finished in our proprietary easy to maintain and durable no-ring finish. Learn more about our hardwood slab furniture, live edge dining tables and counter, island, desk and table tops for commercial, hospitality and residential installations at slab and live edge tables and tops.
---
Our custom made solid wood table tops in Walnut, Cherry, Sapele Mahogany, Maple, Ash, White Oak and other select hardwoods offer superior quality and long term value.
Our custom made hardwood table tops for restaurant, office, home & commercial installations are handcrafted in our workshop from sustainable hardwoods and finished in an easy maintenance and enduring finish. Our custom table tops are available in nearly any configuration, size, thickness and hardwood. Our production woodworking shop, years of furniture making experience and personal attention to detail ensures clients superior quality. We craft flat table tops from stable kiln dried hardwoods with perfectly machined glue joints, and offer the same level of craftsmanship whether you need a single table top or a hundred tops in various sizes. Read more.
---
Custom Round Dining & Conference Tables in Diameters to 96" in Solid Wood we make heirloom quality round table tops in nearly any size with many leg and base options.
Learn more about our round tables. Our custom made round tables are crafted in any diameter to 96" and made in nearly any non-endangered hardwood. Our quality, pricing and lead times are unmatched and the tops are works of natural art. Round tables provide functional efficiency as they offer maximum seating per square foot of surface area. All round tables and tops are handcrafted with wide plank kiln dried boards and each top is thoughtfully laid our before glue up for the greatest eye appeal. Our tops are finished with a very durable poly that is not subject to water rings and will stand the test of time. Round tables have never been more popular, call for a custom quote with the base of your choice.
---
Conference tables, desks & solid surface work tops handcrafted in Walnut live edge and beautiful slabs of dense Sapele Mahogany, Maple, Ash, White Oak and other select hardwoods are crafted to handcrafted quality at production shop lead times.
We specialize in live edge and thick slab conference room tables and large desk tops and solid hardwood work surfaces. We serve commercial, restaurant, hospitality clients and interior designers - architects nationally for office, corporate, library, restaurant and retail installations. Rediscover the real value of enduring quality. Visit our Chicago area live edge and slab table showroom for conference tables, desk tops, solid work surfaces or island, counter and other commercial custom made hardwood tops in East Dundee, Illinois or call 224-801-1969 for more information. We ship nationally through our trusted White Glove Delivery Partner. Read more.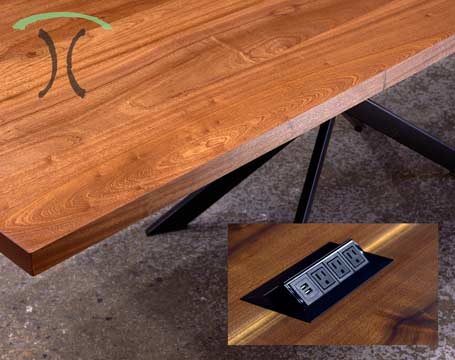 ---
Our furniture showroom and live edge table store serves the greater Chicago area and is located in downtown East Dundee, Illinois.
Visit us to browse our furniture store & showroom to view live edge dining tables, occasional tables and finished natural edge slab tops. You can also view our inventory of kiln dried live edge slabs and hardwoods to find the perfect hardwood for your dining table, island or conference table top. Our woodworking shop, drying room and kiln offers additional insight into what sets us apart from the competition as does our years of experience in handcrafting tables, table tops and furniture that will endure generations. We have finished live edge dining tables, slab and rectangular table tops for immediate sale but can conspire with you to design and create that showpiece live edge or slab table you have been dreaming of.
---
---
---
Hours of Operation (CST)
Monday - 9:00 AM to 6:00PM
Tuesday - 9:00 AM to 6:00PM
Wednesday - 9:00 AM to 7:00PM
Thursday - 9:00 AM to 6:00PM
Friday - 9:00 AM to 6:00PM
Saturday 9:00 AM to 4:00PM
Sunday 10:00 AM to 4:00PM
Spiritcraft Furniture
a division of Great Spirit Hardwoods LLC
 
7 Jackson Street, Suite C
East Dundee, IL 60118
Office: 224-801-1969

---