Our continued existence and sustained growth depends on the utmost quality of every single table and top we produce. Learn more.
There are absolutes and basic facts when it comes to making solid wood tables, tops and other wooden surfaces the correct way and we follow the established best practices to assure our clients long term satisfaction. We strive for the utmost in both efficiency and enduring quality. From the hardwood selection through precision machining and expert finishing we are built to produce solid wood tops efficiently with unsurpassed quality.
Our clients include both residential retail and corporate clients, commercial and residential designers & architects along with national hospitality, restaurant and corporate FF&E furniture suppliers. Our tops are crafted with perfect, warranted glue joints for generational endurance. All tops and tables are equally finished in Milesi 2K Polyurethane for durability, easy of care and for a zero stain / water ring finish.
---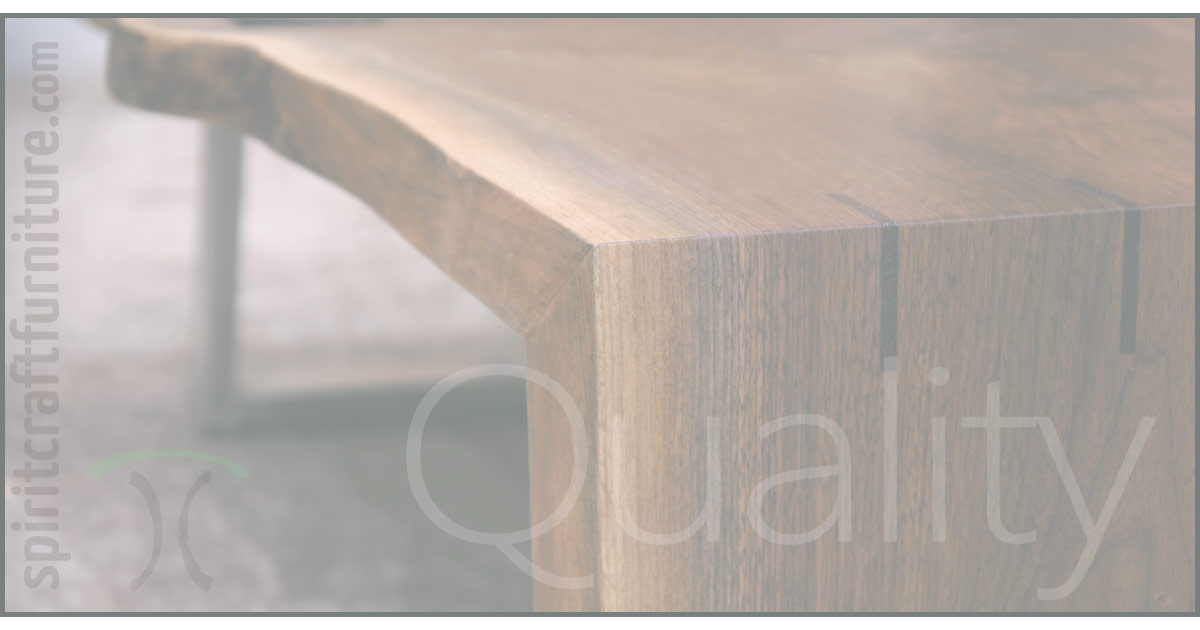 The quality in any solid wood table top or wooden surface is dependent on three main items, the wood itself, the joinery and the final finish.
We will only use Kiln Dried Hardwood in our Solid Wood Tables & Tops
Perhaps the most important factor is the wood itself and we use only select kiln dried hardwoods as anything else is complete folly and will lead to tables and tops coming apart in a very short time frame. This leads to very unhappy customers which is not good for our customers or for their clients. In this era of woodworkers using so called "air dried wood", we pledge that every single board or live edge slab has been properly kiln dried to 6-8% moisture content to the core. In fact, we do not trust anyone else when it comes to drying our sustainable, rescued live edge slabs and we dry every slab in one of our own kilns to assure enduring quality.
Quality Joinery is Critical for the Long Term Endurance in Solid Wood Tables
The joinery, which in the case of solid wood table tops means glue joints, must be absolutely perfect to prevent future failures. There is nothing stronger than a glue joint that is machined to precision and clamped correctly with premium wood glue. No amount of dowels, fasteners, dominoes, bowties or other methods that scream "a hope and a prayer" will prevent an improper glue joint from coming apart. The exception is with waterfall tables that must be splined due to their being half end grain being that a 45 degree cut must be mated together. Our joints are all dry fit to assure square and tightness of fit before being glued up which assures a quality glue-joint. The quality of our glue joints is guaranteed.
A Quality Final Finish Ensures Long Term Value in Solid Wood Tables
In our opinion, there is not a better finish for any solid wood horizontal surface than modern polyurethane. We use what we consider to be the finest polyurethane in production today. Our finish is durable, offers easy damp rag maintenance, will not yellow or crack and will never exhibit water rings. This finish is not a thick coat of plastic and instead allows the grain to remain apparent on all textured hardwoods.
Sadly, there are a slew of finishes being used today such as thick lacquers, floor coatings, "pour-overs" and epoxies that should never be used on solid wood surfaces as the unstoppable seasonal wood movement will begin to tear them apart in short order. No end user will ever be happy with a finish that fails in a season or two and dooms their table investment. Our 2k Polyurethane is the gold standard of solid wood finishes, is durable, stain resistant and has just enough "flex" to be the perfect solid wood table top finish.
We plan on being trusted table builders for the long haul and we can only assure that longevity by offering the finest quality tables that represent true long term enduring value.