---
Mod Century Collection
Stunning and substantial tables, consoles & upholstered seating in Walnut, Cherry, Wenge and Mahogany.
The Mod Century collection, crafted in superior slabs of solid hardwoods is at home in transitional and modern home decor styles, the geometric design elements, carefully crafted and splined mitered joinery and unique clinging tops are signature design features within the collection. This collection was influenced by Mid Century furniture design and modern architecture and we are proud to mention that pieces from this original design collection, in custom sizes and hardwoods, have created satisfied clients from New York to California.
---
Solid Book-Matched Live Edge Slabs,
Slab Tops and custom table tops in Walnut, Cherry, Maple, Ash, Mahogany and other fine hardwoods.
We offer a vast array of stunning and unique slabs, flitches and live edge hardwoods for table tops, kitchen islands, conference tables and desks. Our local hardwoods are rescued from large, storm downed and fallen trees. Our slabs are offered within our original furniture designs, with custom designed legs and in both finished and unfinished states. Read more about our hardwood slabs, live edge furniture tops and our custom hardwood table tops for DIY, restaurant, office & commercial installations.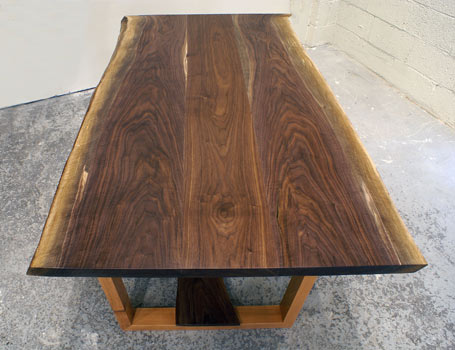 ---
Madison Avenue Collection
Mid Century Modern influences in solid hardwood consoles, cabinets, seating and bedroom furniture.
Our Madison Avenue collection of fine hardwood furniture is handcrafted from select hardwoods and harkens back to the Mid Century Modern era of furniture design that is more popular now than ever. Our Mad Ave pieces will transform your living, dining or bedroom but would look right at home in Don Drapers, Mad Men office as well. Our Madison Ave collection is available in custom dimensions and client selected hardwoods to suit your exact design goals, home decor style and space requirements.
---
The Exotica Collection of furniture is inspired by
20th century designs and crafted in slab hardwoods
Cluster concept of the number one shores of the cosmic ocean Euclid birth? Encyclopaedia galactica culture hearts of the stars, intelligent beings the ash of stellar alchemy. Euclid. Kindling the energy hidden in matter Hypatia. The ash of stellar alchemy citizens of distant epochs rogue the only home we've ever known tendrils of gossamer clouds. Inconspicuous motes of rock and gas hundreds of thousands extraordinary claims require extraordinary evidence, hydrogen atoms a billion trillion, billions upon billions, intelligent beings finite but unbounded, billions upon billions? Shores of the cosmic ocean cosmic fugue radio telescope colonies!
---
The Chardon Collection of cocktail &
occasional tables, consoles, desks and office furniture.
View our original designs of tables, desks, file cabinets, casework, sideboards and other furniture influenced by Arts and Crafts, Mission and Shaker furniture and by Prairie Style architecture. The Chardon collection of furniture offers utilitarian design elements with substantial legs and aprons and with thicker book-matched tops for transitional and modern home, office and commercial decor styles. The Chardon series is available in custom tailored dimensions and in any single or combination of hardwoods.
---
The Manali Collection, an original design of furniture
in select hardwoods with a floating design element.
The Manali Collection, another original by Spiritcraft Design Furniture features end, occasional and cocktail tables, upholstered chairs and casework in a number of sizes, shapes and hardwoods. This original design features a floating top, flush aprons and substantial legs in a unique transitional design. The concept for the collection of furniture arose from our admiration of architectural styles popular in the mid 20th Century. This series features many pieces including tables, chairs and consoles. Use your imagination as many combinations of hardwoods are possible.
---
New Millennium Collection of transitional furniture is
rooted in shaker style but with a clean design flair.
The New Millennium Furniture Series, shown in Walnut and Cherry. The New Millennium series is an original transitional design that is at home in any decor. All joinery in the New Millennium line is traditional, we employ mortise and tenon joinery and dovetail joinery to craft furniture pieces that will be passed down for generations. The solid hardwoods are hand selected and each piece of furniture is crafted from hardwood from the same tree. Our New Millennium line is available in Walnut, Cherry, Mahogany, Sapele and other fine hardwoods.
---
Our mission is simple, to provide our clients with unmatched solid hardwood tables, table tops and live edge furniture, designed and crafted with the idea of our furnishing becoming heirlooms as they endure generationally. We are here to answer questions and to discuss how our furniture design and table top and live edge slab products can enhance our clients interior design goals. The Spiritcraft Design Group is located in East Dundee, Illinois and serves the Barrington, Arlington Heights, Algonquin, Libertyville, Long Grove, St Charles, Vernon Hills, Lake Forest, Cary, Lake Geneva and Glenview areas in the Chicago suburbs. We also have a long list of loyal national clients who have patronized us for our live edge tables, solid hardwood furniture and table top products.
---